Newtown Climate has joined a group of community organisations across the Inner West calling for Inner West Council to introduce 30 km/h local streets in some parts of the Inner West as part of its planned InnerWest@40 strategy.
While the initial plan for InnerWest@40 would have seen a 40 km/h speed limit introduced across the Inner West, introducing 30 km/h zones in some areas would have significant benefits for health and climate. The community proposal asks the Inner West Council to introduce 30 km/h zones in areas where most people already drive below this speed, including the part of Newtown that is in the Inner West LGA, around Camperdown Memorial Rest Park.
Evidence from around the world shows that introducing 30 km/h speed limits makes local streets much safer and more appealing for people who want to walk, run, cycle, scoot or skate. Even where people do choose to drive, the calmer driving and smoother traffic flow on 30 km/h streets can reduce greenhouse gas emissions from cars by up to 25%.
From a health perspective, local residents will benefit from reduced pollution, more opportunity to exercise, a greatly reduced risk of being hit by a car, and a much lower chance of death if an accident does take place. Research shows that 30km/h is a sweet spot at which the risk of pedestrian death in an accident can be minimised with negligible impact on travel times. In some cases, better traffic flow and faster light phasing means that travel time is actually reduced.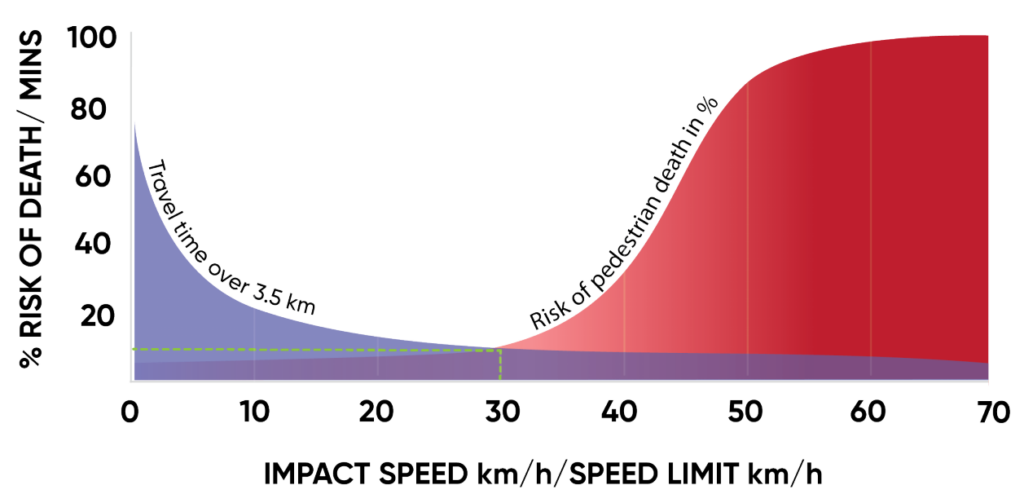 We look forward to seeing some of Sydney's first 30 km/h local streets in our local area.
Read more about 30 km/h local streets